They are everywhere: smartphones. Worldwide, two out of three people own a smart mobile device. In the last decade, this has been generating record sales for the industry – at the expense of our planet. But how sustainable can smartphones possibly be?
The Innovation Network aiming at Sustainable Smartphones 2.0 (INaS) brings together established players and pioneers along the entire value chain in workshops to develop new business models based on modular product designs.
[Please find the German version here]
Samsung, Apple, Huawei and Co. were not among the participants, but there were other players from the entire smartphone value chain who are keen for change: component suppliers, manufacturers, mobile network operators, refurbishers, repair service providers, and recyclers. The kick-off workshop of the second round of the Innovation Network aiming at Sustainable Smartphones (INaS 2.0) brought together around 30 practitioners at the Centre for Sustainability Management (CSM) of the Leuphana University Lüneburg. All set out to work with scientists on solutions that make the smartphone industry more sustainable.
Think along use scenarios
The topic of the first workshop day: entrepreneurial opportunities and challenges of modular product designs. After a keynote by Miquel Ballester from Fairphone and presentations from Dr. Marcel den Hollander and Marina Proske, the participants worked in two creativity sessions on solutions for the sustainability challenges of the industry. One important finding: modular product design alone will not be able to solve them. Project Manager Ferdinand Revellio from the CSM sums up: "In addition to modular design, new business models are needed. A smartphone in itself is never sustainable, the use scenario is crucial. If, for example, a repairable smartphone is only used for 12 months, but there is no take-back system for further use, it is not effective. Sustainable product designs must therefore be complemented by suitable business models and services. In order to think and develop exactly these scenarios across several cooperating organizations, it is important that actors from the entire value chain get in touch with each other".
But what if a modularly designed product is supplemented by smart take-back and recycling systems, is it then sustainable? Not necessarily. This was the conclusion of the first of three workshops. Modular product designs do not automatically contribute to more sustainability, they can also lead to increased consumption. For example, if users always upgrade with the latest modules, even though they do not use them. Modularisation also leads to additional material consumption, because each module is usually enclosed in a housing. Thinking about such scenarios and developing customer-centric services to extend the lifetime of modular smartphones will be the topic of the second workshop following in October 2020.
INaS 2.0 – workshop impressions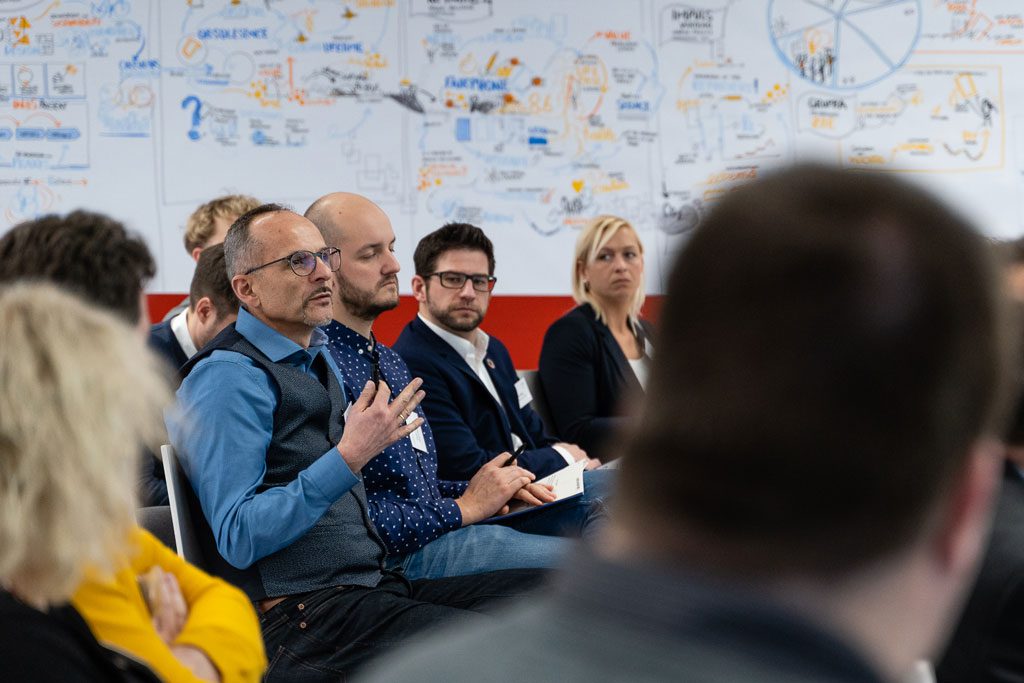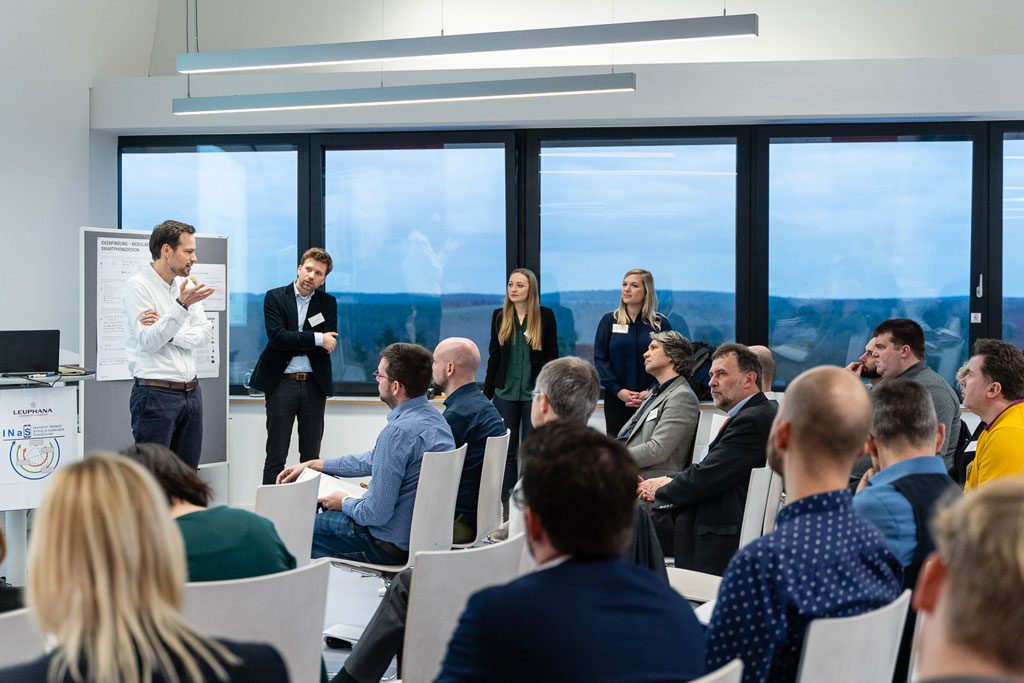 Successful start of INaS 2.0.
"With our practitioner network, we want to create a place for sustainability innovations in the smartphone industry – and this has been working at the CSM since 2016. There is a great deal of interest, especially from players beyond the point of sale – distributors, mobile network operators, refurbishers, etc. They are already benefiting from business models beyond the point of sale," reports Ferdinand Revellio. However, manufacturers also have a strategic interest in addressing circularity. Smartphone sales are slightly declining worldwide, many consumers are satisfied with the smartphone they own and want it to last longer. The German manufacturer Shift GmbH is already focusing on modularity and reparability and has been part of the INaS from the very beginning – and the innovation network is also open to the major manufacturers. It's time to take up the challenge, because the largest environmental impacts in the value chain of smartphones arises in the production process.
Information about the project
The Innovation Network aiming at Sustainable Smartphones 2.0 (INaS) is carried out at the Centre for Sustainability Management (CSM) at the Leuphana University Lüneburg under the academic direction of Prof. Dr. Stefan Schaltegger and Prof. Dr. Erik G. Hansen (Johannes Kepler University Linz) as part of the joint project "Product Circularity through Modular Design – Strategies for Long-Lasting Smartphones" (MoDeSt). Other partners in the MoDeSt project are the Fraunhofer IZM, TU Berlin, Shift GmbH, and AfB gGmbH. The Institute for Integrated Quality Design (IQD) at the Johannes Kepler University Linz is an associated partner. MoDeSt is funded by the BMBF within the framework of ReziProk (Resource-Efficient Recycling Management – Innovative Product Cycles) over a period of three years.
For more information, please visit the project website.
Photos: © Leuphana University Lüneburg, Patrizia Jäger / Group photo: © Centre for Sustainability Management